July 16, 2018
Gateway for mid July to mid August 2018
CLICK HERE to EASILY  sign up for a FREE NEWSLETTER 
VENUS - THE 5th GATEWAY OF ASCENSION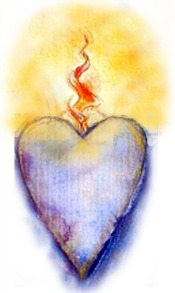 DID ANYONE SEE THE  5th GATEWAY of VENUS and the Moon as they were in conjunction last night, July 15, 2018? This was the closest I have seen them yet!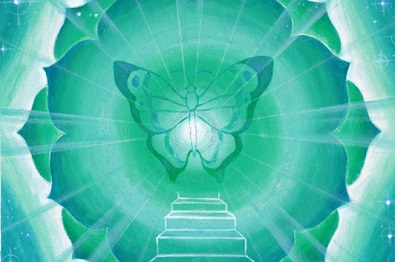 GATEWAY #5 is located at the THROAT CHAKRA when Venus is ascending as she is now. VENUS is making her ascension until September 2018 when she will be crowned QUEEN OF HEAVEN in the zodiac sign of Aries. You can read more about that here if you are new to this web site: "Venus-Inanna Makes Her Ascension through the First Gateway" You can also go to the left side of this web site to read about Venus' Ascension through Gateway #2, 3, and 4.
This month from mid July to mid August VENUS is expressing through your throat chakra. Communications, listening, speaking your truth, sharing with others and with your community from a place of Feminine Empowerment, wisdom, and what you have learned through your experience. 
Don't be shy! You must speak out this month as Venus has something to say through each of us.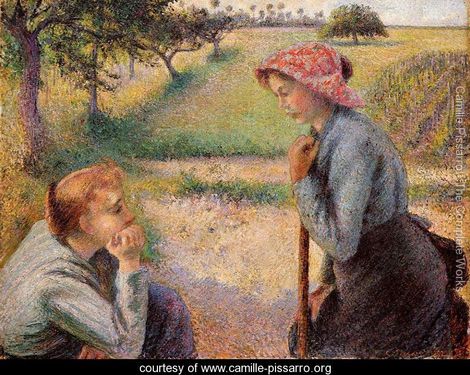 Communication - speaking and listening - bring us closer to one another at every level of life!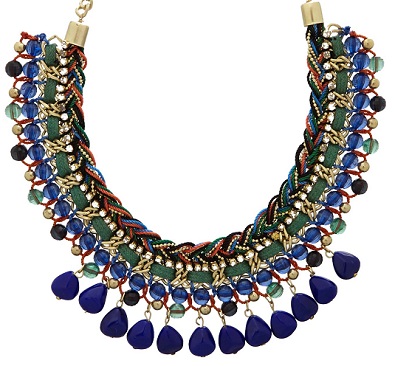 A necklace fit for a Queen by Mary Portas.
Venus, Inanna,  PUTS BACK ON HER NECKLACE of POWER at the Throat Chakra, her 5th Gateway of Ascension. Venus, Inanna, claims her right to speak out when she sees injustice or the degradation of life in any form! She is now empowered to speak a greater truth than she has ever known! AND SHE SPEAKS THROUGH YOU! This is the treasure that you hold for the Divine Feminine: free and true speech, honest connection with those around you and with what you see happening in your everyday environment.
This 584 day Synodic cycle of Venus (about 19 months) is now taking place in the archetypal realm of Aries as a new feminine paradigm explores the mysteries of the Warrior Goddess as she relates to having a healthy body, bringing in new courage to speak  her truth, and the empowerment of women in roles of leadership.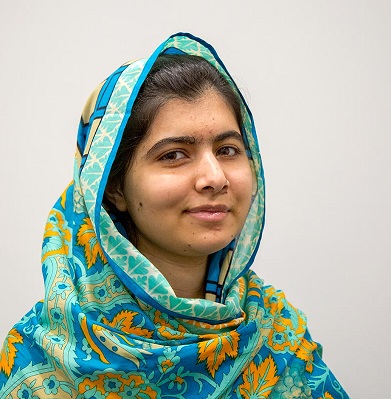 Malala Yousafzai has spoken up for the girls of the world who desire to be educated. She is a true Warrior Goddess. 
Naturally speaking your truth encourages other women to speak theirs. We give each other courage and the strength to do so as Venus brings in the Aries archetype during this ascension time.   
SUGGESTION:  If you are part of a women's circle you may want to honor these SEVEN GATEWAYS by following along with me and including VENUS ceremony in your circle. Your group can create something very special for each woman's personal growth by creating an altar for Venus. This month's altar would honor the 5th gateway which is the Throat Chakra (when Venus makes her Ascent). If you refer to my previous articles on VENUS through the various gateways, you will get plenty of ideas of themes for your altar. For instance, as Venus goes through this month's gateway of Ascension, which would be the throat chakra, you might have an 'all blue' altar, dress in something blue, bring blue flowers....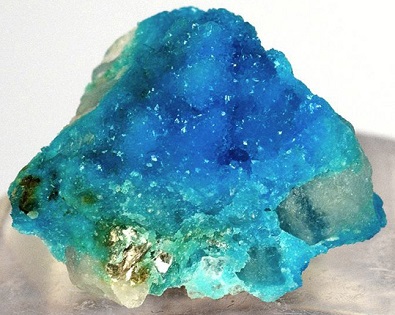 This is a pure, rough clear blue turquoise, a throat chakra stone.
...or gemstones that encourage speaking ones truth.  Each woman could share and commit to her personal issues on speaking her truth. That could mean something different for each woman. Listen carefully to your sistars and share from the heart. CLAIM YOUR PERSONAL POWER for speech in your embodied Venus!....maybe someone will bring a NECKLACE which each woman can put on as she shares her truth. 
"SHINE YOUR LIGHT AS YOUR RETURN TO THE DIVINE FORCE OF LOVE, LOVE OF AUTONOMOUS SELF AND RIGHTS OF SELF EXPRESSION WHICH CAN LIGHT THE WORLD."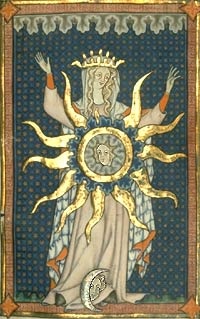 Venus makes her ascent by going through the chakras in reverse order as when she made her descent. We are going upwards now from the root chakra to the crown as we make our personal ascension with Venus.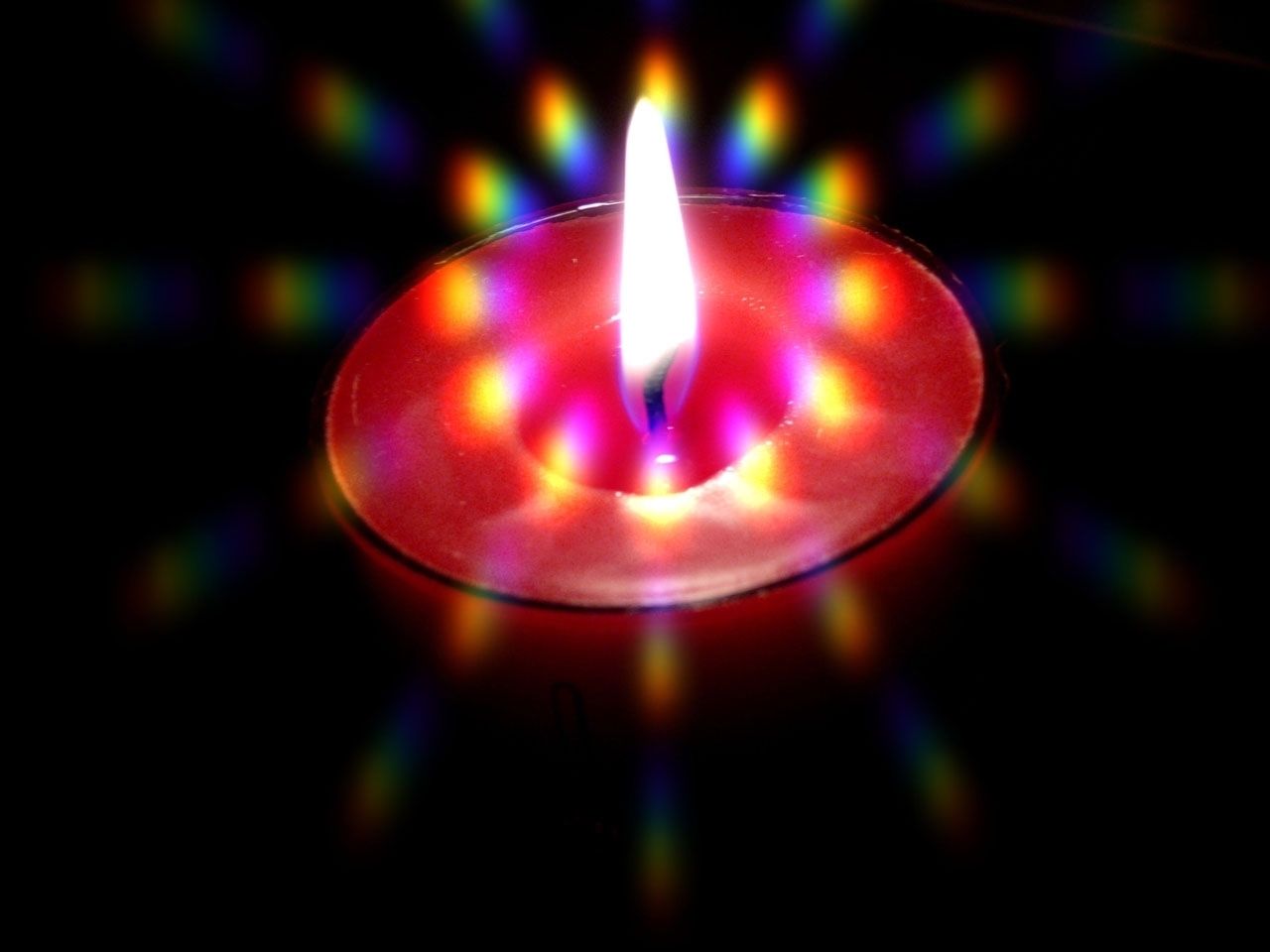 One candle at a time, we will LIGHT the world as we ascend with VENUS by acknowledging our personal feminine empowerment through each of the seven chakras. Our light will SPILL OUT ONTO OTHERS AS WE HOLD OUR FEMININE FLAME AS SACRED.
Oh, girlfriends, this is exciting for me. For one thing, it took me a looooooong time to really feel that I had even a small grasp of this vital Venus cycle. We embody Venus in our bodies, but her cycle is such that it moves with the MOON too. Our Moon which represents a woman's (or man's) Soul, becomes the very gateway for our bodies (VENUS) to pass through. When Venus passes through each gateway at Crescent Moon time she puts back on one of her vestments of power. We are in the realm of the true Mystery School of the Divine Feminine.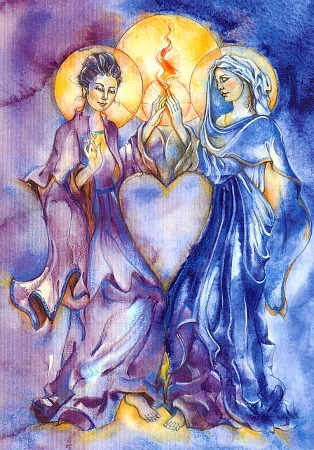 Sharon uses the colors of the 5th through 7th chakras in this lovely watercolor image of two divine goddesses...you can see more of Sharon's art here.
If at any time you feel confused about all these cycles and dates remember to TAKE IT EASY (as MJH always says!) and just follow along. I'll send more emails as the time draws near for Venus's final GATEWAYS, #6 and #7! You and I are learning something NEW IN ASTROLOGY as we continue our monthly stargazing at the planet Venus in our night sky - don't pressure yourself to understand every detail....as you read, as you LOOK UP into the starry heavens, you will slowly begin to comprehend how you are participating in the Great Cosmic Mother's design and love for human life.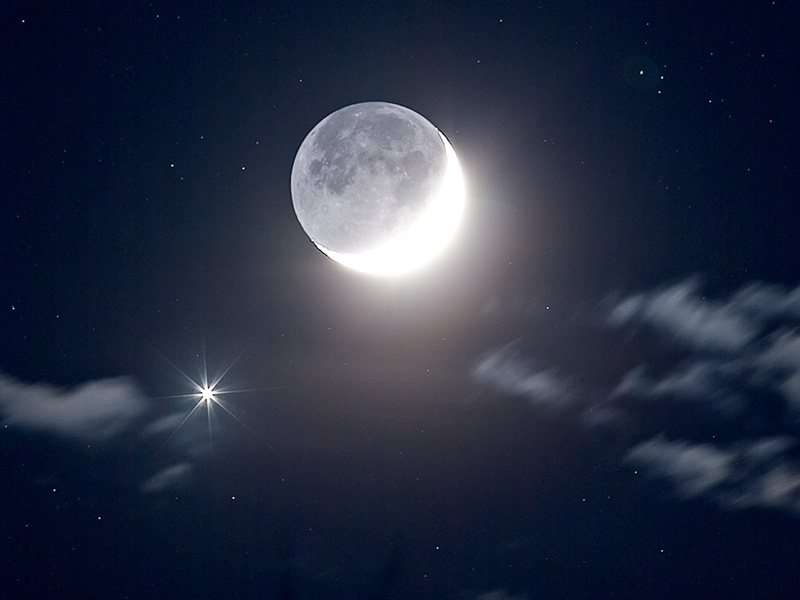 Venus with the Crescent Moon - a GATEWAY of Feminine Empowerment
Venus procures her power and vestments on her 'Ascending Journey as Evening Star' and is finally CROWNED QUEEN OF THE HEAVENS as she passes through the 7th Gateway! (stay tuned as we, month by month, go through her seven gateways - sign up for FREE NEWSLETTER if you want to make sure you don't miss any of these passages of Venus!)
COMING SOON: Do you want to know your Venus Sign at birth? I will be running a series of articles about EMANATIONS OF VENUS with each zodiac sign starting in August. And of course, STAY TUNED...our next gateway is GATEWAY #6, your Brow Chakra, (wow! that's your third eye) August 14th, when the Moon is in her next CRESCENT PHASE!
Love to you and your very dear hearts! ♥♥♥♥♥♥♥♥♥.......
Dixie Gladstone
Feminine Astrology   feminineastrology.com
ANY QUESTIONS???? please email me at dixiegladstone@yahoo.com If you are new to this site, my article, TOUCHSTONE OF ASTROLOGY, will tell you a lot about how I see astrology...and to the best of my ability, why it works for me.