You may have a fear of being rejected if you show your true self. But you are good at drama and whatever you give out in love, spiritedness and inspiration to others comes back to you. You feel great when others feel great!
Perhaps you like to entertain at home. You should show your home off more because it is probably a place where others can feel at home and be happy. Something about the way you make a house a home invites others to play and be themselves.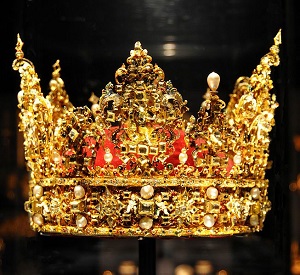 Give your Leo Moon a CROWN for their birthday - they will love you forever!...for she is the Queen of them all!
You can be demonstrative to those you love by giving gifts. You are so generous and warm-hearted. You build others up with your sunshiny nature! Others feel they can trust you and they want to be around you. You do need to feel appreciated for all this effort however natural it comes to you! If someone ignores you, well, look out! You want to be a valued member of the group!

You may benefit from having friends who can gently help you along with doing what is right for you. Sometimes you don't see your own needs and the input of a trusted loved one can help.
You may have an emotional need to be special so that you can get positive attention and feedback. Don't allow this specialness need to take you away from your true self and what you really desire and need to feel emotionally secure and happy. You need to be seen for who you are and appreciated for that. That means you must hang with the people who get you and see the gifts and talents that you truly possess and want to express, not some false persona that gets your temporary attention but is not really YOU.
You will need to show a Moon in Leo or the 5th house your self respect or you may lose their favor. They have an air of nobility about them even when their situation is humble.
MOON IN VIRGO, the 6th EMANATION OF THE DIVINE FEMININE,
OR MOON IN YOUR 6th HOUSE